Looking for information about the best secure fingerprint and password protected hard drives available on the web? Here, we are with the complete information and details about it. So, don't miss till the end to get complete knowledge about it.
In our daily lives, it is our routine to save our important files and documents on our hard drives so that we can carry them easily wherever we want. Hard drives have made our lives much easier, but on the other hand, their security is a major concern. Hard drives aren't much secure, as anyone with a computer can access your files without letting you know (unless you take extra precautions). So, now losing your hard drive isn't the only way to lose your data; leaving it somewhere for a while can also put your data in danger as anyone can access it without any barrier. This problem concerned many people, and finally, hard drives protected with secure fingerprints and passwords were introduced.
In a Rush? Here are Our Top 4 Picks
How Does the Fingerprint HDD Works?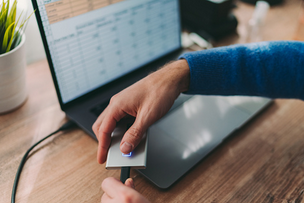 Fingerprint Hard drives use a combination of two well-known biometric technologies and the latest AES 256-bit technology for the complete security of your data. It is essential for proper encryption and the security of your files. This modern technology is very user friendly and easy to use. The software allows you to save eight different fingerprints with ease. Once set up, the user can easily lock and unlock the device using their specifically registered and saved passwords. Now, no one in this whole world can unlock the device and access your files.
Another type of protected HDDs, is the ones using passwords. Unlike other operating systems, the hard disk password protects your data even if someone unlocks your computer or removes the hard disk. The password is stored in the firmware of the disk itself. Using a password-protected hard disk will keep your personal data safe and protect your files, unlike your computer or mobile phone's password.
Best Secure Fingerprint and Password Protected Hard Drives List
There are different USB drives out there that are fingerprint protected (ex. this one). However, sometimes you need to protect big files and need more reliability. For the reason, let's check the best fingerprint HDDs.
Verbatim 53650 is a fingerprint-secured and high-speed HDD. Verbatim offers you a storage of 1TB so that you can save as much stuff you want without having any fear to lose it. Moreover, it is very easy to operate and have multiple connectivity options. Talking about its appearance, Verbatim 53650 has an exquisite design and has a leather covering.
When it comes to security, Verbatim 53650 is built with Nero Backup software that helps back up your data easily and quickly whenever and wherever you want. If you are looking for a product with multiple compatibility options and affordable prices, you won't find a better option than Verbatim 53650.
Now let's discuss some of its pros and cons:
Pros:
Extensive connectivity for multiple usages
Pretty economical pricing
Users' Friendly
Cons:
You may need to scan multiple times to unlock the device
A very unique and remarkable password-protected hard drive is iStorage diskAshur 2. It comes in bright red to gain your attention and vast storage of 1TB. The thing that makes it unique from other devices is its durability. iStorage diskAshur 2 provides you resistance against water and dust and makes the device durable. This HDD has a data transferring speed of 160MB/s which means that you can now transfer plenty of files in a matter of seconds.
Furthermore, iStorage diskAshure2 will work on any device with a USB port without any software.
Now let's discuss some of its pros and cons:
Pros:
Fast data transferring speed
Attractive look
A massive storage
Cons:
The password is not easy to restore
NOTE: this is not a hard drive on its own. It's just an enclosure for a HDD.
For the people, who have a hard drive and want to make it fingerprint protected, StraTech Biometirc Enclosure is the best option. The product under discussion isn't actually a hard drive but an enclosure to secure your hard drive. The enclosure has a built-in biometric system that helps you protect your HDD fingerprint. You just have to put your hard drive in the enclosure, and that's it; your HDD is now fingerprint protected.
Pros:
Protects your hard drive
Easy to use
Quite economical pricing
Cons:
The material quality isn't so good
Apricorn Padlock Fortress FIPS is a high profile data storing device that provides you with the ultimate protection of your personal and professional data. The good thing about the product is that it doesn't require any particular type of software, you just have to connect your hard drive with any computer or laptop you want with the help of a cable, and that's it. Another remarkable feature about this HDD is that you can enhance the minimum pin length from 7 characters up to 16 characters for additional security.
Pros:
Provides storage up to 2 TB
Multiple modes to access data
Auto-lock feature and self-destruct pin
Cons:
Samsung T7 Touch Portable SSD is amongst the first fingerprint protected SSDs. For this reason, it is a bit expensive but is a good option for personal use. Samsung T7 gives you storage of about 1 TB and has a minimal size, making it easy to carry. The good thing about this device is that it helps you transfer data at the rate of 1050 MB/s. Samsung T7 helps you keep your files safe in the way you want. In short, it is the best option for those who are looking for a secured external data storing device.
Pros:
Fast Performance
Compatible size
Cons:
The device requires software for fingerprint unlocking on a PC or MAC
Another remarkable HDD is WD 2TB Portable External Hard Drive. The best thing about this HDD is that it has a very compact size, making it portable and easy to carry. You can take it with you wherever you want with ease. WD HDD offers you massive storage of 2TB at astonishingly economical pricing. It's also compatible with all types of gaming devices such as PlayStation, XBOX, etc. It doesn't require any software to work. All you have to do is to connect it with the device you want, and that's it. WD HDD is a password-protected device and provides you with an automatic backup facility. No matter what your preferences are, it is a must thing that you won't find a better option than WD 2TB HDD.
Pros:
Portable
Compatible with gaming devices
Easy to use
Cons:
A very slow data transferring speed
A pretty unique and remarkable HDD is the iodd Mini. It provides you with storage up to 1 TB. The device is easy to use and allows a quick connection with your computer or laptop. Iodd Mini helps you keep your data safe and is password protected. The unique thing about this device is that it provides you with information about the device with which you have linked it. Its shape is just like that of the mobile, making it easy to carry. If you are looking for a complete package in economical pricing, Iodd Mini is the best choice.
Pros:
pocket size and easy to carry
Shows information about the linked devices
Economical pricing
Cons:
The modes get stuck some time
Fantom drives data shield portable USB is featured with 256-bit AES military-grade hardware encryption. The good thing about this device is that it doesn't require any particular software for setup and is compatible with both PCs and MAC. Fantom Drives HDD has a very compatible size and provides complete protection of your files with a built-in 12 digit passcode combination. The price is also quite economical. For those, who are in need of something new, FD HDD is a good option.
Pros:
Is compatible with Notebook, gaming consoles and PCs
12-digit passcode combination for complete safety
Cons:
iStorage diskAshur is a password-protected device that ensures the complete safety of your files and data. When it comes to security, it is FIPS Level 2 certified and provide resistance against dust and water. The device is pretty easy to use; you just have to set a 7-15 digit passcode and use it like a normal HDD. iStorage diskAshur doesn't require any software to work; you just have to link it with the device you want and nothing more.
Pros:
Massive storage up to 18 TB
Provides a fast data transferring speed up to 256 mb/s
Cons:
There are some complexities while setting the device
iStorage datAshur Personal2 is yet again a remarkable and the final product in our list of the best HDDs. Personal2 is, in fact, a password-protected flash drive that allows you to keep your data safe. As it is a flash drive, it doesn't provide much storage, but it can be an excellent option for you to transfer data between systems. Even though it is a flash drive, there is no question about its security. With the data transferring speed of 169 MB/s, iStorage datAshur is the best option for you in this price range.
Pros:
Easy to use
Fast data transferring speed
Cons:
The device isn't much durable
Buying Guide: How to Choose the Best According to Your Needs?
Once you have chosen to save your data, you must look for the best device in the most economical price range as not many people can afford expensive stuff. Below we have given the list of the things you must consider before getting the hard drive you need. So, continue reading:
o Storage
The reason for getting a hard drive is simply to store the data which your computer can't store much longer. For that reason, the first thing you must look for in a hard drive is storage. Today hard drives from 100 GB to 2 TB are available quickly; it depends on you which one you need according to your usage. However, it is suggested to choose the one that would serve you for a long time, and you don't have to delete stuff to spare some storage constantly.
o Reviews
It's often said that users are the best critics, and I genuinely believe it. To choose the best product, you first need to look at what others think of the product. It's impossible to get the right product without doing anything; you have to research, visit some sites, and see the reviews to get the best product.
o Connectivity Options
Connectivity options are yet another thing that you must look for while getting the best fingerprint or password-protected hard drive. Try to choose the one with plenty of connectivity options as you may need to attach it to a computer whose USB port is damaged or doesn't work. Furthermore, wireless hard drives are also available on the web that helps you access your file in a much easier and safer way.
o Buy from a trusted website
In the case of fingerprint protected and password protected hard drives, you cannot guess the quality of the product by just looking at the product. Today, hundreds of companies worldwide are manufacturing such hard drives. It depends on you to choose the right one, and the only way to do it is to purchase it from a trusted and tested website. That's the only way you can get the one you need.
Final Words
Hard drives are very important and are much useful for all of us. All of our important data and files are stored in it. But to keep them safe and out of reach of other people, you need to have them secured in a proper way. In this article, we have given you the list of the best password protected and fingerprint protected hard drives. Now, you can work devotedly without any fear of losing your data.
In case of any queries or you want to share your experience, you can do so by commenting below. We would love to hear from you and to solve your problems. Have a nice day.
Technology enthusiast and blogger in my free time