If you want to regain your brain strength, playing board games might be the solution. It will increase your brain function and train your brain in a different way. At the same time it will provide you a mental challenge, similar to the one you get when hacking. In this article we will cover the best board games for hackers.
The development in modern technology has opened many doors. Today the internet has taken over the world by storm. You will not find a single person not holding a smartphone now. The internet and modern technology have brought many innovative designs to the table. However, every beneficial thing holds cons of its own. So spending too much time on the internet can drain you mentally, and you might even reach a burnout, which is very common between cybersecurity professionals. This is why you must find a way to relax. And if you are cybersecurity fan, having a hobby that has at least a small part of cybersecurity, would give you joy.
Are Board Hacking Games Worth the Time?
Before we list down the products, let's discuss the benefits of a board game. Board games are an excellent tool to spend your time more creatively while also having fun. Suppose you want to be a hacker, then your brain must be as sharp as it can be. There Is nothing better than a board game to enhance your brain activity. Below we have mentioned all the key points about a board game.
Hacking board game is a great gift for your hacker friend. Here are some other gift ideas if you are interested.
Best Board Games for Hackers
Here is our top picked list of the cybersecurity focused board games.
It is a two-player card game that is set in a cyberpunk future. The Android Netrunner is the most doped hacker-themed game ever created. It follows the story line of the dystopian era where the monolithic mega-corps rule over the human interests.
It has an interesting concept and two sides to play for. You choose between playing as the Corporation or the Runner (an attacker), who has individual abilities and winning conditions that conflict throughout the game. In other words, you must hack the corporation. The corporation players must advance their agendas to score their points. Apart from that, they will protect the intellectual characteristics from highly genius and revolutionary hackers who are none other than the netrunners. The netrunners' sole purpose is to steal the corps agendas and winning their game by whatever it takes.
The Android Netrunner game is slow at first for both sides. But just like in the real life, the malicious actors must prepare before making a move. And the good guys are constantly working on implementing better defense mechanisms.
In the start of the game, the Runners build up their offensive and defensive arsenals to prepare for the next phase while avoiding the Corporation's increasing number of barriers. A strike can never be timed perfectly for either side. The key to success is watching and waiting for weaknesses in the other's defenses and attacking when circumstances warrant it.
Pros:
Fun to play
Takes 30 to 60 minutes to play
Talking about the physical product – good print on the cards
Good mechanics that imitates the real life blue and red teaming concept
It can be played online
You can play tournaments – the game helps by providing rules for it
Cons;
Limited to only two players.
Can still be found on Amazon (unlike some other great hacking games that are not being sold anymore)
This is an extension pack of the popular hacking game, Android: Netrunner.
The extension pack also follows the same dystopian cyberpunk theme. You can either be a corporation or a runner. With the extension pack you will be able to track your progress with two sheets, stickers, and secret packs of campaign cards.
it is a great addition to the main game, as it gives 163 additional cards that can be used in tournaments. These are 86 Corp and 77 runner player cards.
If you liked the original game, with the extension pack it will be interesting even more. The extension pack will give a fresh view to the game.
ThinkFun Hacker Cybersecurity Logic game will test your skills and strategies to outsmart cybercriminals. If you are willing to become an ethical hacker, you can learn the mindset and get the feeling of being one, just by playing this game.
This is a pretty simple game that is great for kids. If your kid wants to become a hacker, but is too young to make the first steps, this board game will give a feeling like being one.
In this game, you have to join the white hat hacker as a coder, hacker, or security engineer to defend the world from cybercriminals. You will encounter many challenges here to build your reasoning and planning skills. You will also be able to learn programming principles and critical thinking. It is the best hacking board game for children above ten. It is easy to learn and adapt, especially for beginners. There are a total of 120 beginners to expert challenges present here.
During the gameplay, you must program your agents in a way that they would avoid all the viruses and alarms and collect the relevant data chips. Once you understand how a hacker could damage your programs, you will prevent further attacks.
Pros:
Suitable for children
Excellent graphics
120 challenging levels.
Ideal for beginners.
Cons:
Might be a little be boring for an adult
Some users had identified some design flaws
The CIA: Collect It All is a part of the CIA game collection. It is a competitive card game that will help to get the cybersecurity based thinking like no one else. In this game, the players mimic CIA agents tasked to collect the intelligence and take security threats in several rounds. The players will be able to draw from a deck of 150 cards. They must come up with powerful strategies to solve crises. There are four aspects to tactics and crises – Political, Military, Economic, and Weapons – and players can only combat crises if their tactics match their aspects. The rival players also have reality check cards which they can use to make their opponents' efforts much worse and more complicated.
Pros:
Excellent game to learn about intelligence collection techniques
Suitable for children
Excellent graphics
Cons:
Want to beat a hacker? Then you must think like one. Inspired by the 1990 secret service raid on Steve Jackson, the hacker is a computer card crime game similar to Illuminati. The only difference is that the players have to draw cards on the net at the center of the table instead of having individual card stacks. You have to utilize the in-dials to breach the systems and gain root access. This game is way too much fun to play. It provides you with many interesting features. It allows you to update your older tools into new ones. You can also set deals with fellow hackers for gaining access.
And you can phreak others as well. In a phreak, you allow other people to hack a system you have your account on legally. You can also nark them to throw hackers from a particular system. In order to win the game, you must dodge the ICE and law enforcement raids. Your goal is to achieve the greatest number of root access sites. You can add viruses, worms, and black ICE with the dark side expansion cards.
You can learn more about the game on this site.
Pros:
Solid game root
Good print
Solid mechanics
The expansion card includes many interesting features.
Suitable for beginners.
Cons:
Limited to 6 players only
It comes with no dice
Some concepts seem outdated.
All in all, this game is worth your attention. Even though created over 20 years ago, and it talks about phreaking, it has the spirit of hacking.
Hack Trick is a board game built on simple rules but sports complex strategies. In this game, that was released in 2015, a player or, more specifically, a hacker has to crack a passcode. The game can be played from 2 to 4 players, and the duration of a match is from 15 to 25 minutes.
In the Hack Trick, you and your opponent race against each other to place three blocks in a row. Whoever wins two out of three rounds is considered the champion. The basic concept of Hack Trick is based on a tic tac toe game in which the player has to guess a password. This game is built on outclassing mechanics that will force you to make hard decisions at every turn. While playing the game you must consider consequences of your next move and have a solid strategy. You have to be very careful while choosing because whatever you decide to do will determine the fate of your next steps and what your opponent is learning about you.
Each time you place a card, a door is open for your opponent to take the block you have previously claimed, or you will be forced to show your hand. Game objectives are to get three consecutive wins, but there are many strategies involved in knowing what your opponent has in their hand or what they might do with it.
Pros:
Suitable for children above ten
Excellent graphics.
Challenging levels.
It will increase your strategy thinking
Cons:
It is currently hard to find on the market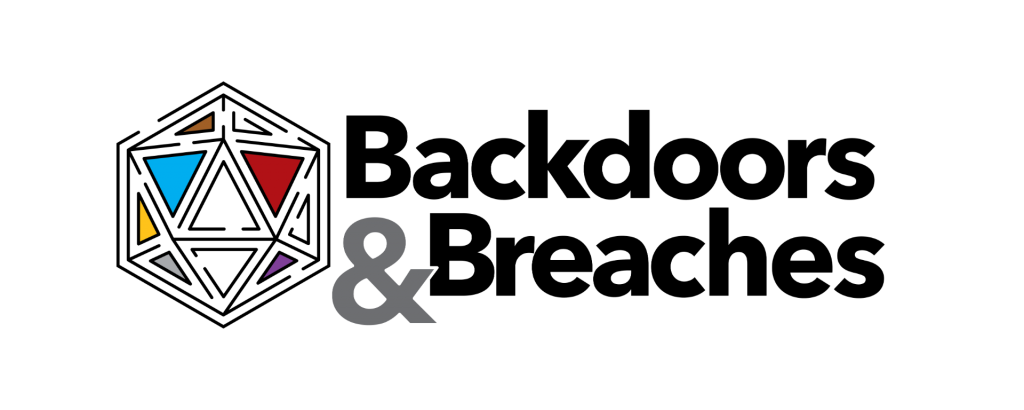 Black Hills Information Security and Active Countermeasures has brought an active and fun incident response card game that will test your capabilities in the best way. The Backdoors and Breaches consist of 52 unique cards that teach you to conduct incident response tabletop exercises. You will have the cool and tricky tactics, methods, and all the necessary tools this game needs.
In the beginning, an incident scenario will be unleashed by someone called the incident master. You have to select from Initial Compromise, C2 and Exfil, Persistence, and Pivot and Escalate cards and then pass a narrative to the responders about the incident. There will be four sets of documented procedures the responders will access. These responders will use these methods to investigate and solve the incident. As the game is created by two solid cybersecurity companies, this makes it one of the best board games for hackers.
In total 3,840 Incident Scenarios can be created in this game.
Pros:
Excellent graphics
Fun to play
Can be played online
Suitable for training
Can be played by kids. It will help children think more critically
Cons:
Data Heist aims to educate players on data protection and Personal Cyber Hygiene. It was the first game created with simple levels to enable even an 8-year-old to play this game. If you are a cybersecurity professional, you might not learn a lot from the game, but this is still a great way to spend your free time,
Even though it is based on a simple foundation, it still consists of amazing and tactical features that attract more grownup players. In this game, a player plays the role of an amateur hacker who wants entry into the inner circle of the fraternity. This game follows the challenges in which the players have to take over data from the unsuspecting victims in the marketplaces. The goal is to steal as much data as possible. They use three of the most common attacks for this purpose. It can be played by 2 to 6 players and is recommended for individuals above 8.
There is a video that shows how the game can be played:
Pros:
Ideal game for children.
Will build their thinking capability.
Excellent graphics
Will teach the players about cyber hygiene.
Cons:
Reasons Why You May Like Playing Hacking Board Games
While everyone likes spending their free time differently, board game might not be for everyone. But these are the advantages of board games for hackers that might help you to decide:
1# – It is a great way to spend your time with friends or family
First thing first, board games are extremely fun to play. With online games, you can play with your friend's miles away. It can perhaps make you feel better, but it is not as fun as playing the games in person. So if you are thinking of setting a fun gathering with your friends, then adding a board should be a top priority. It is quite understood that when you are with your best mates, any boring party will become extra fun. And the hacking theme of the board game will make the experience of playing even more pleasant
#2 – These type of games are interesting as hacking is fun in overall
Hacking is a cool profession. You tell someone you are a hacker and see the colors of their face changing. This is because the hackers are geniuses and smart people everyone wants to be. These games will also increase your knowledge about hacking. You might get an idea of what a real hacker does. Knowledge is power, and nothing can stop you if you have enough of it.
#3 – Tabletop games is a great way to train cybersecurity professionals
Different situations that are simulated on a tabletop hacking game, will help you to prepare for day to day challenges. Working as a cybersecurity specialist requires a defined set of skills that are gained naturally with experience. However, even though real life experience is the best way to learn, hacking tabletop board games are also beneficial.
Taking part in play promotes the development of critical cognitive skills, such as decision-making, problem-solving, and—higher-level strategic thinking. As a cyber-security professional, you need your brain to be active all the time. So board hacking games can be a useful tool for brain training to make it think quicker and to be prepared for upcoming challenges.
Hacking Board Games Buying Guide
You have learned about the advantages of a board game and the best ones you can find online and in markets. Now let's discuss what qualities you must look for in a board hacking game. All of the reviewed games were selected by the following criteria:
The number of players:
It would help if you always looked at the number of players needed to play a game before buying it. There are times when a game requires as many as ten people to play. In this scenario, you have to think about whether you have ten people to play with or not. So always check the number of players, which is usually mentioned on the box before buying—a board game.
Interesting concept:
The second important thing to consider is to check what concept the game is built on. Whether it is based on some CIA agency or a dystopian era. Most of the time, players are attracted more to the game's display and story line than the challenging stages. Although, if your goal is to train, then a cybersecurity tabletop board game should have a lot of interesting content. In this case the content is more important than the graphics.
Attractive art:
The third thing is graphics and art. Art attracts people. If your game appears aesthetically pleasing, you may want to spend more time playing it.
Educational content:
Is your game teaching you something or not? It is the most crucial quality you must look for. Like in the hacking board games, you have to see whether it increases your critical thinking power or is just a waste of time. Your game must increase your brain power, decision-making, and thinking capability. Even if you are not looking for a game that might be used for incidence response training, a dull and simple game just won't make it interesting. It should have at least some educational aspect. Otherwise it will be just another typical board game.
Cost-effective:
The last aspect to consider is whether your desirable game is pocket friendly or not. Cost matters a lot, and we don't have to explain this part much deeper at all. It is important to look for something pocket-friendly that fulfills all the qualities of the best hacker board games.
Bottom Line
So these were all the best board games for hackers we have discovered on the internet just for you. Some of them are not available for the sale, so you might need to check Ebay or other marketplaces for used items. This is a shame, as we have covered many great board games, that are still relevant today and are great for hackers.
If you was not convinced yet, I hope the article helped you decide that cybersecurity board games is a great way to spend your free time. If you want to be a hacker, spending hours on the computer is not the only way to learn the hacker mindset. You must physically as well mentally engage in some activities. Board games are always the best way to spend quality time with friends and family while learning some really fun tactics.
Technology enthusiast and blogger in my free time